Absolutely, I'll expand on each section, keeping the language straightforward and focusing on FLX Flooring's services for each location:
1. Custom Showers in Penn Yan, NY
FLX Flooring in Penn Yan has built a name for itself beyond just top-quality floors. Our commitment is to deliver a dream space for our customers, and this extends to our custom shower designs. Have you ever imagined what your perfect shower would look like? From colors to fixtures, we aim to turn that imagination into reality.
Imagine stepping into a shower with the exact color scheme you wanted. Maybe you've always wanted a lighter ambiance or perhaps a more soothing dark tone. We'll discuss these details, ensuring the end result reflects your desires. And it's not just about the look. Functionality is key. Do you need multiple shower heads for that luxurious feel? Or have you always dreamed of having both a bathtub and a walk-in shower in your bathroom? Whatever the requirement, we're here to guide and provide.
Our offerings in Penn Yan are diverse. Choose from glass enclosures, hinged doors, sliding doors, or even frameless ones for that modern touch. We also specialize in custom stone showers, marble showers, and detailed glass mosaic shower floors. The options are many, and the choice is yours.
As a local business, our ties to the Penn Yan community are strong. We prioritize understanding our customers' needs and ensuring satisfaction. Interested in starting your bathroom transformation? Fill out our form, and let's get the ball rolling. A quote from us is just the beginning of a beautiful journey to achieving your dream shower space.
Custom Shower Offerings:
Glass Enclosures 

Frameless Doors  

Sliding Doors 

Hinged Doors 

Custom Stone Showers  

Custom Marble Showers  

Custom Glass Mosaic Shower Floors  

Custom Alcove Shower 

Custom Neo Showers 

Custom Corner Showers
To start your custom shower and bath renovation, please begin by filling out our form below! This will give us a good idea of places to start and the ability to provide a comprehensive initial quote to you as soon as possible!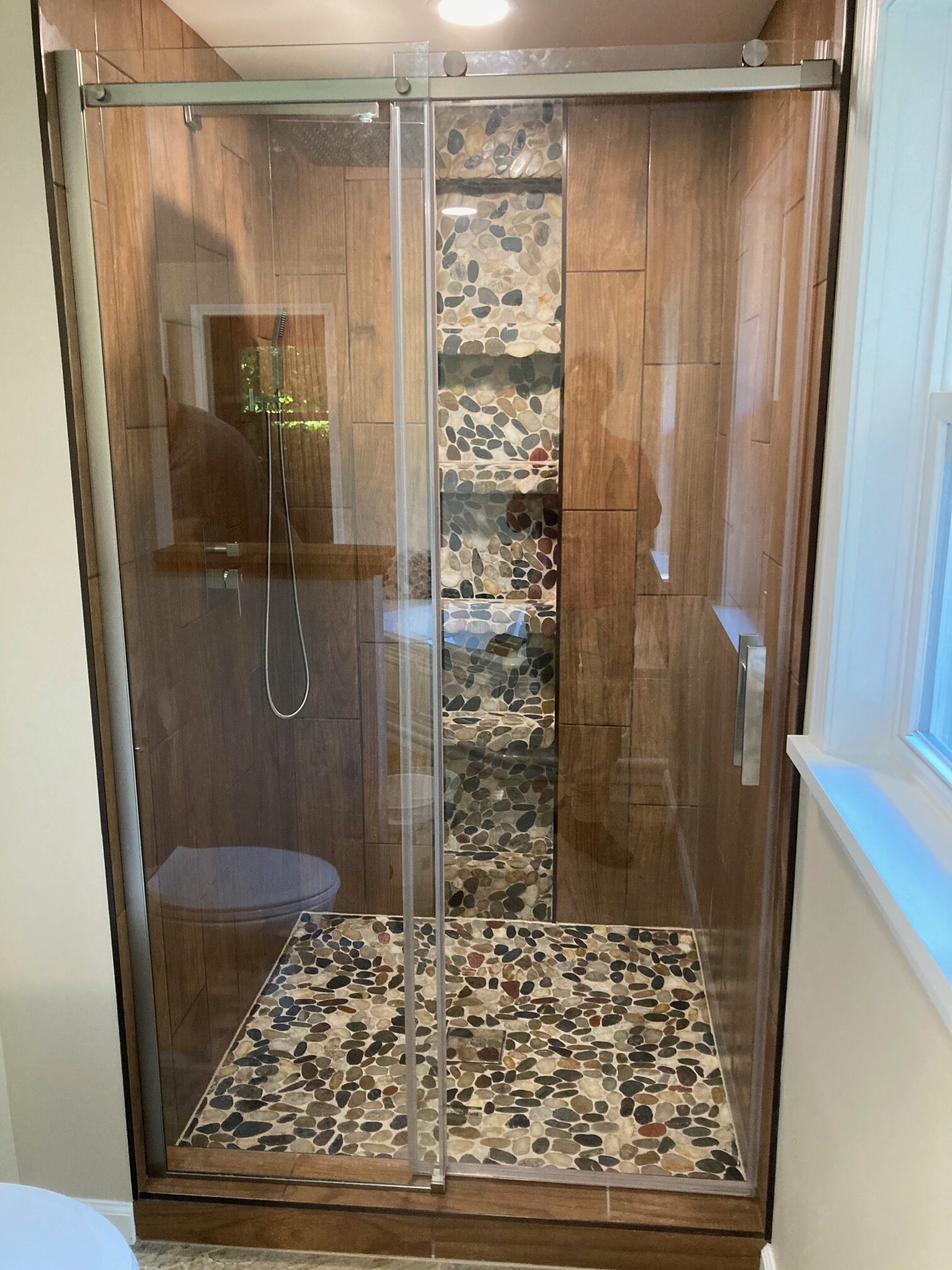 Expert Tile Installation Services 
Are you looking for a new shower?
If so, look no further! We're FLX Flooring, and we're here to help you make your dreams come true.
We install custom tile with care and precision, ensuring that every detail is perfect. Our attention to detail is one of the reasons our customers love us so much. We know how important it is for them to have a beautiful shower that they love coming home to at the end of their day.
We believe in quality over quantity, and we take pride in every single one of our projects. When you choose us as your contractor, you can rest assured that we'll be working hard every step of the way to give you exactly what you want: a high-quality shower that will look great and last long after its installation date!
We'll work with you to create the space of your dreams! Our staff is friendly and knowledgeable about everything from tile installation techniques to water conservation practices—and they're ready to answer any questions you might have about your project today!
What are custom shower design services?
Custom shower design services specialize in creating tailor-made shower spaces that cater to specific preferences, requirements, and aesthetic choices. Whether it's unique tile patterns, innovative shower fixtures, or accessibility considerations, these services work closely with clients to bring their vision of the perfect shower to life.
How do custom shower designs differ from pre-made ones?
Pre-made or standard showers typically come with set designs and dimensions, while custom showers are designed specifically for a client's space and needs. This means you can choose the materials, fixtures, layout, and features that perfectly fit your bathroom's size, style, and function.
How long does it take to design and install a custom shower?
The timeline varies depending on the complexity of the design, material availability, and any structural modifications required. On average, the design phase can take 2-4 weeks, while installation may range from a few days to several weeks. We always recommend discussing the timeline with your service provider for a more accurate estimate.
Can I incorporate accessibility features into my custom shower design?
Absolutely! Custom shower design services can integrate a variety of accessibility features, such as grab bars, bench seats, low or no-threshold entry, and handheld showerheads, making the space safe and convenient for everyone.
Are there any limitations to what I can include in my custom shower design?
While custom designs offer a lot of flexibility, some limitations might arise from the size of your bathroom, budget, plumbing considerations, and local building codes. It's always essential to consult with a professional to understand any constraints specific to your project.
How do I maintain and care for my custom shower after installation?
Regular cleaning with non-abrasive cleaners and ensuring proper ventilation will help maintain the look and functionality of your custom shower. Depending on the materials used, there might be specific care instructions, which your service provider will provide.
What's the cost range for custom shower design and installation?
sts can vary widely based on design complexity, materials chosen, labor rates, and any structural modifications needed. Generally, custom showers will be more expensive than pre-made options. It's best to get a quote from a service provider to understand the potential costs for your specific project.
BRING YOUR DESIGN TO LIFE TODAY